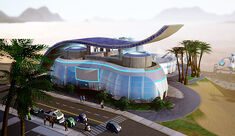 The wave power plant is a power plant that first appeared in the Cities of Tomorrow expansion of SimCity (2013).
It is made available after being researched at a Academy and can only be placed along a shoreline. It requires ControlNet to function, like its more powerful brethren, the fusion power plant.
Modules
Standard Wave Generator: Plop in water near Wave Power Plant to increase power output.

ControlNet usage: 500 ControlNet
Power generated: 30 MW
Cost: §45,000 Upkeep: -§400/hr
Advanced Wave Generator: This advanced generator produces more power than a Standard Wave Generator.

ControlNet usage: 2,500 ControlNet
Power generated: 105 MW
Cost: §110,000 Upkeep: -§900/hr
Ad blocker interference detected!
Wikia is a free-to-use site that makes money from advertising. We have a modified experience for viewers using ad blockers

Wikia is not accessible if you've made further modifications. Remove the custom ad blocker rule(s) and the page will load as expected.