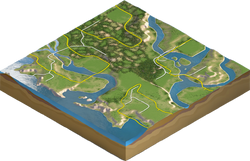 This heavily wooded region features lush green forests fed by lazy rivers flowing through the region. A wide variety of sites in several groups provide many opportunities for mayors to cooperate to fill the region with massive cities.
Viridian Woods is one of the regions featured in SimCity (2013).[1] It has 16 city sites and 4 great work sites.
City sites
A pair of deep crude oil reservoirs rest on the shoulders of a proud promontory in this site. Spectacular ocean views provide the setting for a possible seaside resort town.
The River Stuart is severed in two by the Isle of Tudor at the center of this site. A full crude oil deposit lies at the heart of Tudor Isle, anointing the industrious with ample oil dividends.
The dramatic cliffs of Yorkshire provide glorious summers for tourists, but make trading the coal and raw ore extracted from this site a greater challenge.
Slight crude oil and raw ore deposits provide enough natural resources to begin an industry in this site. However, the real treasure of this site lies in its access to trading routes along the River Stuart.
This site is speckled with impressions of raw ore and coal. This flat site has a moist water table ready to supply even the most thirsty of sprawling metropolises.
Look closer at this site with two choices of industry. The top of the central plateau is rich with raw ore deposits and the low-lying land features two deep crude oil deposits.
Raw ore deposits in this site promise a fruitful mining operation to mayors wise enough to use the rail running through the site.
Coal and raw ore deposits are scattered throughout this expansive site. With plenty of room to grow, this site is ready for a massive city.
With a spectacular shoreline running along the edge of this site, mayors could develop this site into a thriving resort. Crude oil deposits provide another route for city development.
A large plateau tops the middle of this site, but for mayors willing to work around this impediment, they are rewarded with deposits of coal and raw ore.
Crude oil and raw ore deposits in this site serve as an excellent start to drilling or mining operations. The riverbank that borders this site is ideal for trading on the Global Market.
The "Straussburg Triplets", a string of islands in the middle of the Straussburg River provide a compelling challenge for mayors who want to extract the crude oil from the largest of the three islands.
This woodsy site has a sampling of coal and raw ore resources for mayors willing to clear away the trees. The nearby river provides a convenient shipping connection to the Global Market.
Dramatic cliffs separate this site into two distinct elevations. Coal and raw ore deposits provide the foundation for a city focused on drilling or mining.
Covering one side of a large hill, this site is a dream for would-be ore mining towns. Mayors willing to contend with the steep hill will find much to love in this site.
This flat site provides mayors plenty of room to build a massive city. Small deposits of coal and raw ore provide a meager source of resources.
Trivia
References