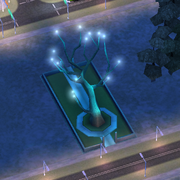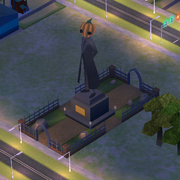 New update for SimCity BuildIt - v1.7.7 (Oct. 20, 2015) has five Halloween themed parks for a limited time.[1][2]
Spooky Park
Monster Tree
Pumpkin Man Statue
Haunted Mansion
Graveyard
I already bought 4/5 parks so far and love the night time lights/effects on the Haunted Mansion, Spooky Park, and Monster Tree park. The Pumpkin Man Statue has lights at night time but they pale in comparison to the other parks.
Check out EA's SimCity BuildIt Halloween parks video[3] to see these parks.
EA Update Notes
What's New in Version 1.7.7
Greetings, city spirits! Build your Halloween Haunt and spook your city this season with five creepy new limited-time buildings. Plus:
• Watch your city light up at night with eerie effects
• Strategically place Halloween buildings in new ways to boost population growth
• Enjoy more commentary from citizens and earn more rewards
• Improved performance to keep your city running smoothly 
Tap the Pumpkin Icon to find all the fun! Thanks for playing and happy Halloween.[4]
Sources
Ad blocker interference detected!
Wikia is a free-to-use site that makes money from advertising. We have a modified experience for viewers using ad blockers

Wikia is not accessible if you've made further modifications. Remove the custom ad blocker rule(s) and the page will load as expected.