Its not what you think. Simcity 4 cant be played *online*, but you can coop with people.
Visit our group here: http://steamcommunity.com/groups/online_city_sc4_coop
You need:
1. Dropbox
2. Simcity 4 AND Rush hour.
3. Windows Vista or 7
All you need to do is ask one of us and we can tell you how. In real time, people can share 1 region due to the power of dropbox. Check it out!
Here is our region at the moment.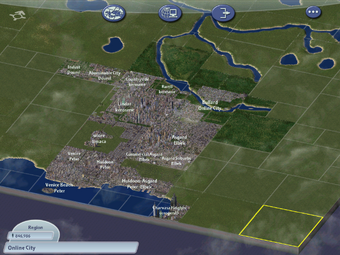 Ad blocker interference detected!
Wikia is a free-to-use site that makes money from advertising. We have a modified experience for viewers using ad blockers

Wikia is not accessible if you've made further modifications. Remove the custom ad blocker rule(s) and the page will load as expected.