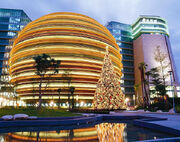 The Living Mall is a landmark ploppable found in SimCity 4. It is located in Taipei, Taiwan. Lesser known as Core Pacific City was erected 2001 and features 12 floors overground and underground another 7. 
Appearances
The Core Pacific City appeared in SimCity 4.
Trivia
In SimCity 4 the outer sphere is blue yet in real life it is brown.
Ad blocker interference detected!
Wikia is a free-to-use site that makes money from advertising. We have a modified experience for viewers using ad blockers

Wikia is not accessible if you've made further modifications. Remove the custom ad blocker rule(s) and the page will load as expected.