Attached to the mainland by only a narrow highway, this small island projects into Sunrunner Island. This sunny island is a getaway for free spirits and artists. A pair of city sites share this island and all its natural splendor.
Sunrunner Bay is one of the regions featured in SimCity (2013). It has 2 city sites and a great work site. After completing the tutorial, which takes place in the identical region Endeavor Island, this region becomes available.
City sites
| Image | Name | Description | Access | Coal | Ore | Oil | Water | Wind |
| --- | --- | --- | --- | --- | --- | --- | --- | --- |
| 50px | Corsair Coast | With its serene shoreline, the Corsair Coast is ideal for a wealthy tourist destination. Take advantage of bountiful crude oil deposits to amass your city's treasure. | | | | | | |
| 50px | Plunder Point | Dangling from the southern tip of the island chain, Plunder Point is the last chance for a port of trade before ships head to sea. Sea shanties tell of the abundant ore deposits in the cliffs of this coastal site. | | | | | | |
Gallery
Videos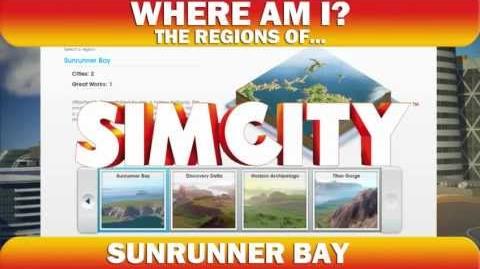 Ad blocker interference detected!
Wikia is a free-to-use site that makes money from advertising. We have a modified experience for viewers using ad blockers

Wikia is not accessible if you've made further modifications. Remove the custom ad blocker rule(s) and the page will load as expected.