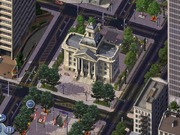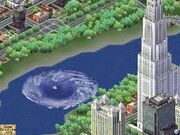 The Simoleon
is a basic unit of monetary measure in all SimCity games. Simoleons can be used in three main ways, to maintain the city, to pay off debts, and to make purchases. Simoleons can be obtained by taxes and business deals, such as the GigaMall in SimCity 3000.
Better buildings requires more simoleons, and later on, the player will need to invest money in certain areas, such as population growth, in order to obtain certain buildings.
If the level of simoleons goes into the 'red' (in debt), the player may need to take out a loan. The finance advisor will also offer business deal buildings if the player goes into debt. Going too deep in debt in SimCity 4 can also result in the mayor being booted out of office.
Ad blocker interference detected!
Wikia is a free-to-use site that makes money from advertising. We have a modified experience for viewers using ad blockers

Wikia is not accessible if you've made further modifications. Remove the custom ad blocker rule(s) and the page will load as expected.