This update was introduced in 13 June 2016
☀When OMEGA Corp arrives, your city becomes full of possibilities.
Getting started (Lvl. 30 required)
Tap on the NeoMall site between your Vu Tower and mountain area. If you meet the unlock requirements, the Future Cities Advisor will appear to guide you into the future.
NeoMall
The NeoMall contains rare items like Cheetah Speed-Up Tokens, Vu items, expansion items, or items of the future. As soon as you unlock the NeoMall, the advisor will give you a starting stash of NeoSimoleons for a shopping spree.
OMEGA Homes
Once you've built your NeoMall, you can start building OMEGA homes. Tap on the residential building menu to see the new OMEGA zones.
Use OMEGA items to build and upgrade these new homes. You can produce OMEGA items in the OMEGA Research Center or purchase them from the NeoMall. (See OMEGA Production)
When two or more OMEGA homes in a small area are upgraded to the maximum level they'll form Sky bridges.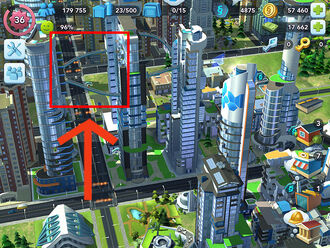 OMEGA Home Services
ControlNet: Keep your OMEGA home functioning at its best by building a ControlNet. Find them in the ControlNet Service menu.
NeoBank: Unlike your other residential buildings, OMEGA homes produce NeoSimoleons too, so make sure to remember to collect and save them in your NeoBank. Find it in the Government - Services menu.
Drones: Take care of crime, health and fire emergencies in your OMEGA homes by building Drones. Find them in the Drones Services menu.
OMEGA Services: Don't forget to build Power, Water, Sewage and Waste Management Services.
OMEGA Production
You need two buildings to produce OMEGA items—the OMEGA Lab and the OMEGA Research Center. 
Drag the Simoleons icon to the OMEGA Lab to start processing, and collect the OMEGA materials when they're ready. You can build up to 6 OMEGA Labs in your city.
The OMEGA Research Center takes those materials and creates OMEGA items. Find it in the Government - Services menu.
Tap the OMEGA Research Center and deposit OMEGA materials to start processing. When the items are ready, tap on the boxes to collect them.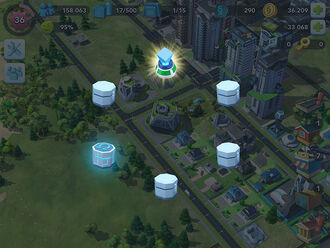 OMEGA Item Storing
Find  OMEGA Storage in the Government - Services menu. If you need more room, tap Increase Capacity to see what you need.