With the Progressive Office, your city buildings will be covered against catastrophes. You can insure your buildings and get some money back if you're hit by a disaster. Adjust your coverage rate to change how much money you receive.
Cost: Free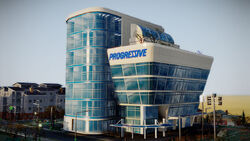 The Progressive Office is a ploppable DLC building in SimCity (2013). The building gives the player a percentage back of any buildings that were damaged by a disaster. The percentage can be adjusted from 0% to 90% within the building.
When the insurance coverage is greater than zero percent, the city gets billed an insurance premium each month. The amount paid is based on the percent that is covered. The building also boosts the happiness of the Sims in the surrounding area as it provides a place for shoppers.
Ad blocker interference detected!
Wikia is a free-to-use site that makes money from advertising. We have a modified experience for viewers using ad blockers

Wikia is not accessible if you've made further modifications. Remove the custom ad blocker rule(s) and the page will load as expected.