These are the
police
buildings in
SimCity 4
: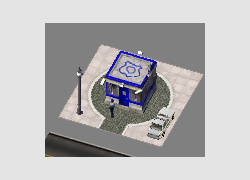 Police Kiosk
No cars or jails. Sends criminals in other jails if possible. They are best used to stop petty crime waves in a district. These Kiosks are best to be built in shopping malls or Large Airports, as they are meant as Security Guards.
Small police Station.
It has a short range, 25 cells, and 2 cars to dispatch.
Large Police Station.
It has a medium range, 50 cells, and 4 cars/vans to dispatch.
Deluxe Police Station
(Rush hour/Deluxe only)
It is the opposite of the kiosk. It has long range, 75 cells, 6 cars/vans, and a chopper.
City Jail
It is there to increase police efficiency. It has 800 cells.
Federal Prison
It is a reward that pays 250 simoleons per month. It has 3,000 cells.
Placing this will cause sims to go on strike outside of the prison, and slightly lower your mayor rating.