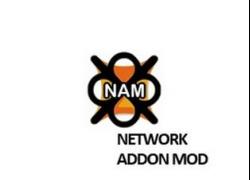 The Network Addon Mod, also known as NAM, is a SimCity 4 mod that combines transportation network-related fixes and adds new transportation options. The mod adds roundabouts, pedestrian malls, ground light rail/trams, and turning lanes to existing transportation networks. It also makes elevated trains controllable.
Requirements
Other mods may be required for some features of the NAM to work, such as tunnel-digging lots (included with NAM in newer versions)
Mods under NAM
In newer NAM versions, mods have been added as NAM features, such as:
Network Widening Mod
Real Highway Mod
Tunnel Digging Lots
THIS LIST IS INCOMPLETE. PLEASE CONTINUE ADDING OTHER MODS TO THE LIST.

Usage
The Network Addon Mod is used for transportation fixes and gives the player a bigger choice of managing their cities' transportation network. It is heavily used due to the addition of roundabouts and trams, but also due to making the game more realistic. 
Bugs
Multiple people said that sometimes the tram lines would glitch up from the road and would make the road undemolishable.
Other
The NAM mod is one of the most used mods for SimCity 4, having almost 220,000 downloads and 380,000 views on Simtropolis
Ad blocker interference detected!
Wikia is a free-to-use site that makes money from advertising. We have a modified experience for viewers using ad blockers

Wikia is not accessible if you've made further modifications. Remove the custom ad blocker rule(s) and the page will load as expected.