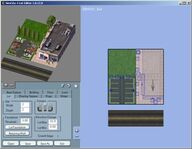 The Lot Editor is an add-on for SimCity 4 that allows players to design custom lots using available props, or props that they have downloaded. Many experienced modders tend to use this tool in combination with others to create completely new buildings. This tool is available free of charge, although the game must have already been installed in order for this tool to work properly.
BAT included an updated version of the Lot Editor, rendering the original obsolete. It does not require the Rush Hour Add-On.
Ad blocker interference detected!
Wikia is a free-to-use site that makes money from advertising. We have a modified experience for viewers using ad blockers

Wikia is not accessible if you've made further modifications. Remove the custom ad blocker rule(s) and the page will load as expected.