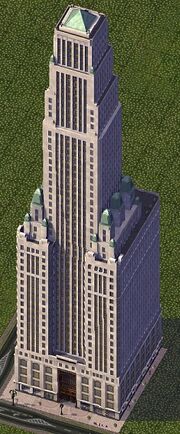 Lind Entertainment is a growable stage 8 CO§§§ building in SimCity 4, in the New York tileset, offering 5,796 jobs.
Lind Entertainment is classified as a stage 8 building. As with all other stage 8 commercial office buildings, it is required to have approximately 45,000 office jobs in the region before this building can grow.
The building has some elements from the Merchandise Mart, built in Chicago in 1930.
Statistics
Type
CO§§§
Jobs
5,796
Stage
8
Size
4x4 tiles