The Empire State Building
is a ploppable
landmark
building available in
SimCity 3000
,
SimCity 4
,
SimCity (2013)
and
SimCity DS
. It does not provide any jobs, and it costs 300 simoleons to maintain. The original building is located in Manhattan, New York.
The building was created in 1931 and it stole the crown from the Chrysler Building as the tallest building in the state of New York, (before the completion of the World Trade Center and after its destruction), but later it became second tallest, after the new World Trade Center 1 was completed in mid 2012. Including the antenna, the building is 443 meters tall.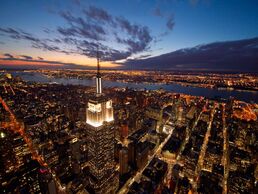 The building is named after New York's nickname, the Empire State, and has been the focal point of the city.
Trivia
In SimCity 3000, the Empire State Building is underscaled.
In SimCity 4, if the player focus hard enough, the windows are not completely flush with the walls, allowing the player to see things behind the building through the cracks.
Ad blocker interference detected!
Wikia is a free-to-use site that makes money from advertising. We have a modified experience for viewers using ad blockers

Wikia is not accessible if you've made further modifications. Remove the custom ad blocker rule(s) and the page will load as expected.