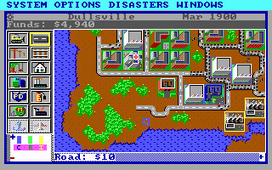 Things haven't changed much around here in the last hundred years or so and the residents are beginning to get bored. They think Dullsville could be the next great city with the right leader. It is your job to attract new growth and development, turning Dullsville into a Metropolis within 30 years.
Make Dullsville a metropolis within 30 years, starting with only $5000.
This scenario, despite being the first visible one in various scenario listings, is the most difficult. To complete it, you need to have mastered various concepts on rapid growth with a limited budget.
Dullsville contains:
1 coal plant
7 industrial zones
6 commercial zones
15 residential zones
Ad blocker interference detected!
Wikia is a free-to-use site that makes money from advertising. We have a modified experience for viewers using ad blockers

Wikia is not accessible if you've made further modifications. Remove the custom ad blocker rule(s) and the page will load as expected.