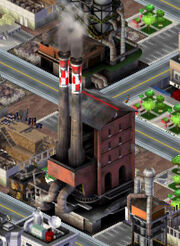 Double Stogie Enterprise is a dense industrial building found in SimCity 3000, SimCity DS, and SimCity Deluxe iOS.
SimCity 3000/DS/iOS
2x2 lot and has moderate pollution. Has similarties in output with the Factory Barn. It bears resemblance to some older era factories from the 1800s to the 1920s.
Trivia
The name can be inferred that the factory produces stogie style cigars. the second theory is that it gets this name because it emits smoke pollution just like a cigar.
Ad blocker interference detected!
Wikia is a free-to-use site that makes money from advertising. We have a modified experience for viewers using ad blockers

Wikia is not accessible if you've made further modifications. Remove the custom ad blocker rule(s) and the page will load as expected.