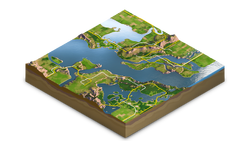 Roll on down the lazy Rye River as it flows through Discovery Delta. This expansive wetland region follows the course of river tributaries with creeks and ponds forming among the city sites. Four groups of cities are situated to develop amazing cities in the delta and complete great works.
Discovery Delta is one of the regions featured in SimCity (2013). It has 16 city sites and 4 great work sites. There are 4 groups of 4 cities, which are each linked as a group by highway access. Some cities are interlinked between these groups by rail.
City sites
Trivia
Ad blocker interference detected!
Wikia is a free-to-use site that makes money from advertising. We have a modified experience for viewers using ad blockers

Wikia is not accessible if you've made further modifications. Remove the custom ad blocker rule(s) and the page will load as expected.