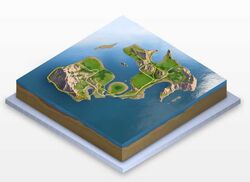 This tropical island destination has sandy beaches ready for the island explorer looking for a laid back adventure in the sun. A wide assortment of natural resources distributed across the islands gives each island its own identity.
Reflection Atoll is one of the regions featured in SimCity (2013). It has seven city sites and one great works site.
Cities
Pages in category "Reflection Atoll"
The following 7 pages are in this category, out of 7 total.
Ad blocker interference detected!
Wikia is a free-to-use site that makes money from advertising. We have a modified experience for viewers using ad blockers

Wikia is not accessible if you've made further modifications. Remove the custom ad blocker rule(s) and the page will load as expected.