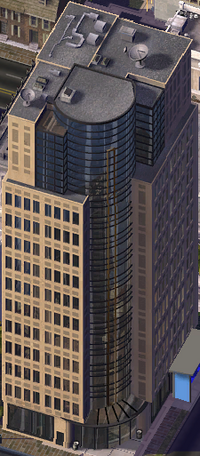 Brink Real Estate is a medium density CO$$$ building in SimCity 4, in the Houston 1990 tileset, offering 212 jobs.
It is a 14 story tower, that consists of a large cylinder of a green glass atrium surrounded by the main part of the building, an outer shell that probably holds most of the jobs. It is of the same stage (stage 4) as Marshall Printing and Reflect Systems Incorporated.
Ad blocker interference detected!
Wikia is a free-to-use site that makes money from advertising. We have a modified experience for viewers using ad blockers

Wikia is not accessible if you've made further modifications. Remove the custom ad blocker rule(s) and the page will load as expected.